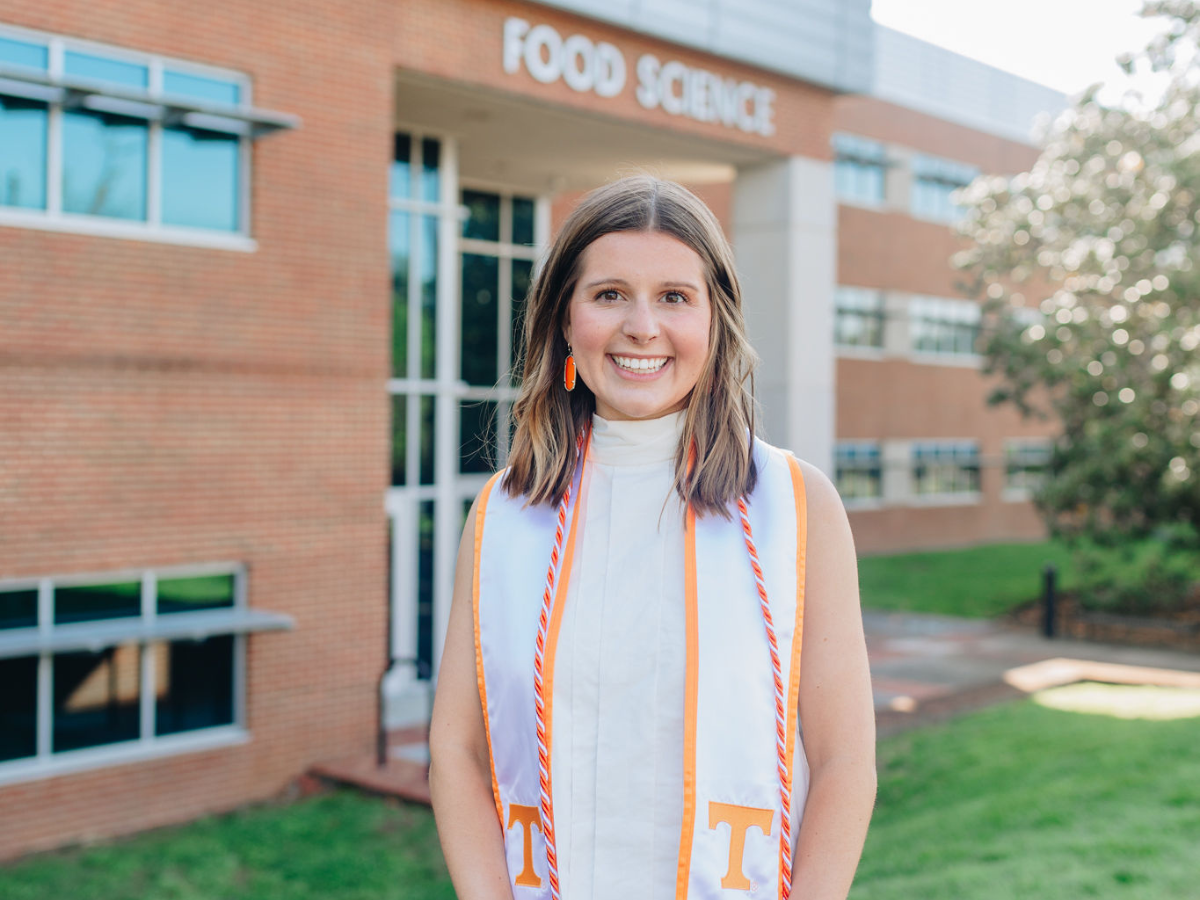 Miller Hadley of Clarksville, Tennessee, is graduating from the Herbert College of Agriculture with a Bachelor of Science in Food Science. When she graduated high school, she never would have believed that she would pursue an ag degree at UT, but as Miller looks back on the last four years, she is thankful for the close-knit community of the UTIA campus and the diverse pre-professional background she gained as a Herbert student.
---
How would you describe your experience in the Herbert College of Agriculture?
I joined Herbert at the end of my freshman year when I decided that I wanted to pursue pharmacy school after my time as an undergraduate student here at UTK. I took FDSC 150 as an elective for my major at the time with Dr. Molly West and absolutely loved it. On our final exam, she asked an open-ended question about our future plans. I indicated that I was hoping to change my major soon to pursue pharmacy school after undergrad, but I didn't know which major would give me multiple options and career avenues. I did not want to feel closed off to one specific career path.
Dr. West explained how the pre-professional concentration worked. When I learned that I could pursue a Food Science degree while also completing pharmacy school prerequisites, I knew it was meant to be. I could pursue pretty much any professional healthcare school I wanted, or if I changed my mind, I had a plethora of interesting career options in the realm of food science that I could also pursue. I am incredibly grateful for my experience in the Herbert College of Agriculture because it has given me a diverse pre professional background while also allowing me to be a part of a major where everyone knows everyone, and all of your professors genuinely care about your success no matter your post graduate plans.
---
What was your favorite class and/or who is your favorite professor?
Although I am in the pre-professional concentration, one thing I love about being a Food Science major is that I can also count on my major-specific classes to be interesting and engaging. My favorite of these has been FDSC 421 (Food Microbiology) with Dr. Doris D'Souza. The course itself is very interesting and provides an excellent example of the overlap between food science and human health and medicine. If there is ever a question of how the Food Science department can benefit someone who wants to pursue a postgraduate healthcare professional school after graduation, this is it!
The entire course is dedicated to learning about foodborne pathogens, the illnesses they cause, unique notorious microbiological features that each possess to make them evasive, specific outbreaks they have caused, how they are treated, and so much more! Additionally, Dr. D'Souza is wonderful. She is kind, passionate, cares about all her students, and teaches the class in a way such that we were always reviewing the material to commit it to long term memory.
---
What is one of your favorite memories during your time at UT?
Would I really be a UTK student if my favorite memory wasn't beating Alabama this year? What an amazing night!
Outside of that memory, I have also treasured the memory of my freshman year Torch Night. Thinking back to that night, I wish I could go back in time and tell my younger self not to be so afraid of being at a big school and that I will figure out my future plans and meet some incredible people all while in the midst of a global pandemic.
---
How has being a Herbert student impacted your life?
My dad, Matt Hadley, graduated from University of Tennessee with a degree in Agriculture Business. He works full time on our family farm in Clarksville, TN. Despite my ties to agriculture, if you had told me freshman year that I would be graduating from Herbert, I would have never believed you. However, I truly believe that pursuing my undergraduate degree in Food Science has been one of the best things I have ever done. In addition to diversifying my application and allowing me to be in such a close-knit major, it has been such a relief to know that if professional school didn't work out, I would still be career ready for a field with so many options. I have absolutely loved learning about all the different careers in Food Science, and I feel like this major has been the perfect way to tie where I come from and where I want to be.
---
What are your plans for after graduation?
Fortunately, I will be sticking around East Tennessee for a little bit longer! I am beginning pharmacy school at the UTHSC College of Pharmacy and was able to choose to spend all four years here at their Knoxville campus, right across the river next to UT Medical Center. I am so excited for this next chapter of my life. I love the career of pharmacy because pharmacists truly bridge so many gaps between physicians and patients. The field is also incredibly diverse. Pharmacists ensure that doctors are prescribing medications safely and ensure that patients are properly utilizing their medications and making good healthcare choices.