About Us
The Lipid Innovation Lab in the Department of Food Science is focused on processing and value-added utilization of soybeans, corn, egg, and other agricultural products or by-products primarily for their lipid components. We specialize in two core areas of "Creating Smart Lipids and Sustainable Lipid Processing" and "Egg and Dairy Product Quality and Value Enhancement."
Team
Our lab features graduate students and postdoctoral associates from different disciplines and with various areas of expertise. This diversity encourages creative problem solving and partnerships with other labs and departments at UT. The current PhD students are Francisco Leyva-Gutierrez and Nathan Price, and Zifan Wan, a postdoctoral associate. Research assistant professor Tao Fei also works closely with this research group.

Active Projects
1) Converting vegetable oil to biobased and smart coating materials for food and industrial applications. See Tao Fei's website. Paraffin coating of corrugated paper boards is widely used to deliver water repellency and strength for grocery cardboard boxes used for shipping iced vegetable and poultry products. Annually, about 3 billion pounds of paraffin-coated boxes are land-filled (40-50 percent of the weight of the box can be paraffin) due to the non-recyclable and non-repulpable nature of such coating. Paraffin and microcrystalline wax is a $1.4 billion market in the US and $3.2 billion globally with a projected growth rate of 4 percent from 2017-1024. Paraffin and carnauba wax are also used to coat fresh produce for quality preservation. Safer, more available and multifunctional alternatives are needed by the industry. Professor Wang's team has been developing soybean oil-based biobased materials that can replace paraffin in coating paper products, and she is currently developing aqueous-based formulations for fresh produce coating. These new biobased oleo products will provide multifunctionality, improve recyclability, and enhance quality and safety of foods (funded by the United Soybean Board).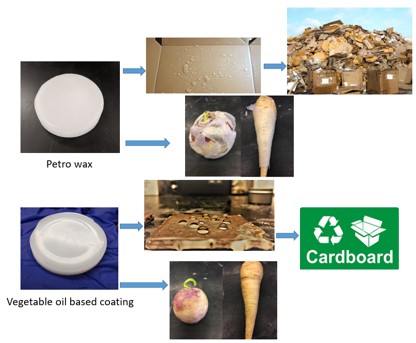 (2) Recovering bioactive lipids from dairy processing by-products. Dairy phospholipid is a class of unique polar lipid and it is lost in significant quantity during processing in the aqueous phases, such as whey, buttermilk, or serum. We are using "green" solvent and food processing aids to recover and fractionate the health-promoting polar lipids (funded by the Midwest Dairy Association).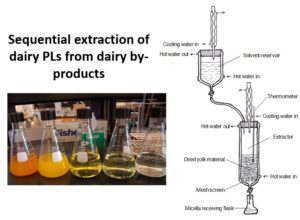 (3) Egg yolk can be fractionated to produce high-value protein and lipid components, such as antibody IgY and bioactive peptides and trans-free plastic fat. Egg and bovine milk are the most sustainably and feasibly produced animal products, with $2.8 and $2.3 per 100-gram of protein, respectively, compared to an average of $4.9 per 100-gram of protein from pork and beef (aeb.org). However, there is little further processing beyond egg breaking into liquid whole egg, white, and yolk. The US produced 109 billion eggs in 2018 (with 284.1 eggs per capita consumption), a $13.4 billion value (USDA, 2019), and of which only 30 percent is broken (AEB, 2019). In contrast, dairy processing and fractionation have produced a diverse array of products and significant economic value. We work on yolk further processing to add value to this commodity product, particularly during a period of low egg price as seen now (shown below). We have also identified effective means to prevent freeze-induced yolk gelation and functionality loss (funded by the Egg Industry Center and USDA-NIFA).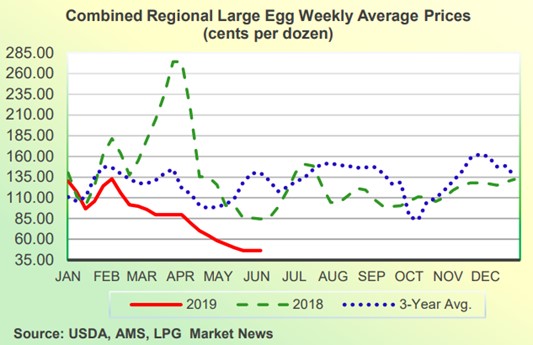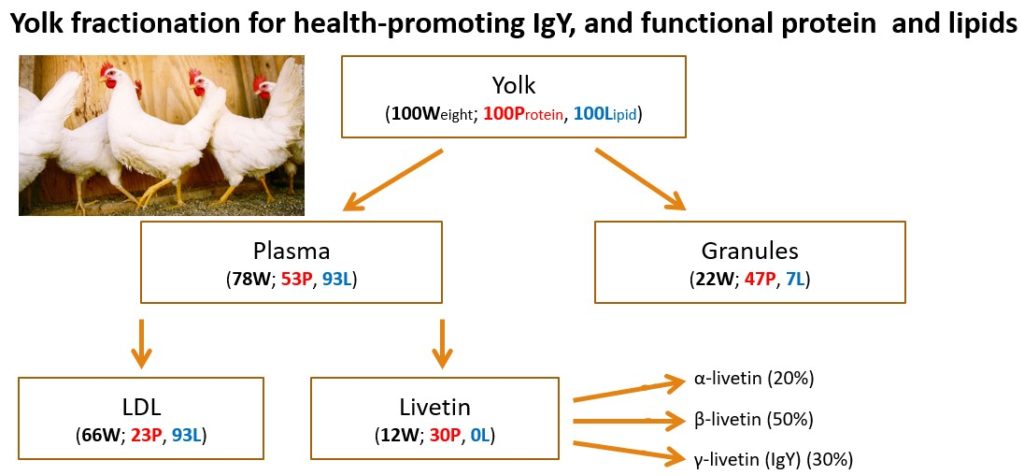 Study of freeze-induced yolk gelation mechanism and prevention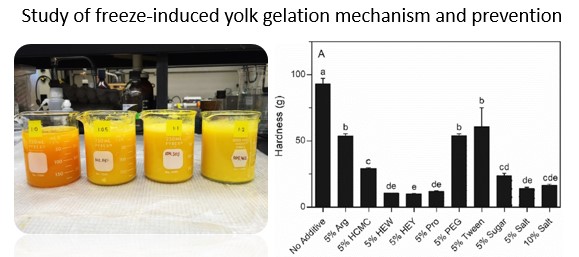 Patents Awarded and Application
Hammond, E.G., and T. Wang. 2005. Method of converting free fatty acids to fatty acid methyl esters with small excess of methanol. US Patent 6,965,044 B1.
Wang, T., and L. Wang. 2008. Chemical modification of partially hydrogenated vegetable oil to improve its functional properties to replace petroleum waxes. US Patent App. 12/113,464. 
Wang, H., T. Wang, L.A. Johnson. 2010. Corn degerming ethanol fermentation processes. US Patent App. 12/798,193 (61/165,681 Oct 2010 publication date). US Patent 9,567,612 B2 (granted February 2017).
Wang, T. Oil extraction from microalgae. 2012. US Patent App. 13/418,560.
Wang, T., Wang, X. 2015. Method of making fatty acid N-acylalkanolamines. US Patent 9,221,747 B2.
Wang, T., Fei, T. 2018. A novel vegetable oil-based material as a substitute for carnauba wax. US20180297937 A1. Pub date 10/18/2018.
Wang, T., Fei, T. 2019. Fatty acid ester-based wax compositions and methods of making thereof. US2019/0136149 A1. Pub date 5/9/2019.
Wang, T. Acevedo, N., Primacella, M. 2018. An effective treatment to prevent freeze induced egg yolk gelation. International Patent Application Number PCT/US18/33473.
Examples of trainees and current position
Jasreen Sekhon: Assistant Professor, Drexel University
Linxing Yao: Proteomics and Metabolomics Facility, Colorado State University
Jose Gerde: Departamento de Producción Vegetal, Facultad de Ciencias Agrarias, Universidad Nacional de Rosario/CONICET, Argentina
Guang Wang: Director of R&D Food Processors, Bunge-Loders
Hui Wang: Iowa State University CCUR Pilot Plant Manager
Karamat Rezaei: Professor of the Department of Food Science, Engineering and Technology, University of Tehran, Iran
Lei Fang: Manager of Technical Services, AgCertain Industries, Inc.
Fei Tao: Research Assistant Professor, Department of Food Science, University of Tennessee
Brett Brothers: R&D Cost Engineering, The Kraft Heinz Company
Carmen Au: Senior Food Technologist at Pilgrim's
Awards and Honors
Endowed Jean Bacon Louis Faculty Fellow, Iowa State University (ISU), 2017.
National Innovation Award, TechConnect World Innovation Conference and Expo in Washington, DC, 2017.
AOCS Society Fellow, 2016
Iowa State University Mid-Career Achievement in Research, 2014.
American Oil Chemists' Society's Timothy L. Mounts Award for Excellence of Research in Basic or Applied Edible Oils, 2013.
College of Agriculture and Life Sciences Mid-Career Achievement in Research Award, 2012.
Women of Innovation in Research Innovation and Leadership, Technology Association of Iowa, 2009.
Gamma Sigma Delta (ISU) Mission Award for Research, 2009.
College of Agriculture Early Achievement in Research Award, 2004.
Representative Publications
Wang, T., Hicks, K.B. and Moreau, R. 2002. Antioxidant activity of phytosterols, oryzanol, and other phytosterol conjugates. Journal of the American Oil Chemists' Society 79:1201-1206.
Palacios L. E. and Wang, T. 2005. Egg-yolk lipid fractionation and lecithin characterization. Journal of the American Oil Chemists' Society 82:571-578.
Stevenson, D.G., Eller, F. J., Wang, L., Jane, J., Wang, T., and Inglett, G. E. 2007. Oil and tocopherol content and composition of pumpkin seed oil in twelve cultivars and review of literature. Journal of Agricultural and Food Chemistry 55:4005-4013.
Gerde, J.A., Montalbo-Lomboy, M., Yao, L., Grewell, D., and Wang, T. 2012. Evaluation of microalgae cell disruption by ultrasonic treatment. Bioresource Technology. 125:175–181.
Walker, L., Wang, T., Xin, H., and Dolde, D. 2012. Supplementation of laying-hen feed with tocos and algal astaxanthin for egg yolk nutrient enrichment. Journal of Agricultural and Food Chemistry. 60:1989-1999.
Yao, L., Jose, J. A., Lee, S., Wang, T., Harrata, K.A. 2015. Microalgae Lipid Characterization. Journal of Agricultural and Food Chemistry. 63:1773-1787.